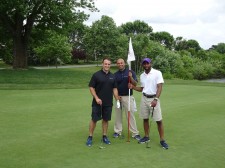 Signature, Inc. hosted a charitable golf outing that supported Tom Coughlin's Jay Fund, which promises support for families struggling with childhood cancer.
CHERRY HILL, NJ , September 8, 2016 (Newswire.com) - Signature, Inc. hosted a golf outing to raise awareness and donations for the Tom Coughlin Jay Fund in June. The event was attended by 60 people and helped raise more than $1,500 for the Jay Fund, which assists families with children facing cancer. Tom Coughlin, former head coach of the New York Giants, provided footballs bearing his signature for the event.
Signature, Inc. President Kenneth W. said, "We are very proud to have been able to put together this event to assist the Tom Coughlin Jay Fund in helping families struggling with childhood cancer. Cancer is a devastating disease and takes a particular toll on the children it affects and their loved ones. With the money raised at our golf outing, which goes directly to the fund, we know that several families in need will receive the help necessary to keep up the good fight against this deadly malady."
The Tom Coughlin Jay Fund Foundation was founded in 1996 in honor of Jay McGillis, a former member of Coughlin's team at Boston College. Jay fought leukemia for eight months and the coach saw first-hand the strain cancer puts on the families of those suffering from it. He vowed to do something to help. The foundation has now assisted more than 4,000 families and given away more than $6 million in grants to families within its operating region.
"At Signature, Inc.," said Kenneth, "we believe it is incumbent upon our company to give back to the community that supports us. Getting behind the Tom Coughlin Jay Fund was an easy sell because of its wonderful work helping struggling families with sick children. We believe our charitable golf outing was a huge success and I know our team had a great time putting it together and participating."
Signature, Inc.'s Leadership in Giving Efforts
Signature, Inc.'s recent golf outing in support of the Tom Coughlin Jay Fund was an exciting fundraising opportunity for the entire team. This event is just one of the many Signature, Inc. charitable efforts that help the organization sound out as a leader in the community. "We foster a philanthropic corporate culture and our team members give back by taking part in many types of community work and fundraising events," said Kenneth. "The Jay Fund is of particular interest to the team because so many among us have been affected by the terrible disease that is childhood cancer."
About Signature Inc.
Signature is an award-winning leader in marketing and promotions. The firm is renowned for their work with key telecommunications and home improvement brands. They have even been recognized by both Verizon and Inspire Energy for providing outstanding solutions. The experts deftly analyze, identify, and launch marketing solutions that leave lasting impressions. Signature is supported by core values of integrity, innovation, and passion. As such, the firm has become a driving marketing force in the Philadelphia region. In addition to marketing prowess, Signature has a strong commitment to the community. They contribute to the Tom Coughlin Jay Fund Foundation and many other worthy causes. Learn more about this thriving firm by visiting its website at http://signature-inc.net.
Source: Signature, Inc.
Share: